On 14 September 2022, the Vietnamese Academy of Forest Sciences (VAFS) received the delegation from the US Embassy and the US Forest Service to visit and work at VAFS Headquarters in Ha Noi. Members of the US side included Mr. Andrew Wylie – Vice Director of the Environment, Science, Technology and Health Service; Mr. Lee Schneckenberger, Fish & Wildlife Service; Mr. Ralph Bean, Foreign Agriculture Service and other representatives of the US Forestry Service. From VAFS, Dr. Doan Van Thu, Vice President and other staff of the VAFS and the Research Institute of Forest Industry (RIFI) worked with the Delegation.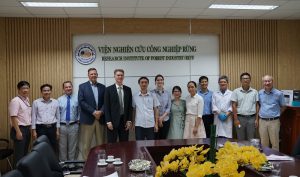 Participants attended the meeting
At the meeting, Dr. Doan Van Thu, on behalf of the VAFS, gave a welcome speech to the delegation of the US Embassy and the US Forest Service. He highly appreciated the cooperation and contribution of the US side to the project "Capacity building of wood ID for Vietnam toward development and effective operation of V-WISC in Vietnam". He also expressed a hope that the cooperation between VAFS and US Forestry Service will continue effectively, and the V-WISC project will be successfully implemented as approved.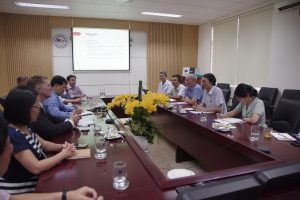 The two sides discussed about the future research activities
Mr. Andrew Wylie, on behalf of the US side, expressed his appreciation for the visiting and having the chance to cooperate with VAFS in research and development activities. He was very happy to see the V-WISC's laboratory of VAFS and witnessed the RIFI's staff well-run the DART-TOF system which is sponsored by the US Forestry Service. He said that he was looking forward to seeing this new technology to contribute to the wood identification and legal wood control to meet the demand of both sides' market as well as the world's market.
During the meeting, participants had chance to listen to the presentation by a representative of the RIFI on the challenges in the current wood identification activity in Vietnam, the role of the DART-TOF system, and report on the result of the training on DART-TOF operation methodology in the US. Then, the two sides discussed and agreed on the next cooperation activities in the ongoing project and other relevant research issues.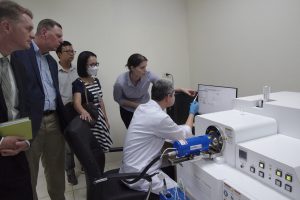 The US Embassy visited the V-WISC's laboratory at RIFI, VAFS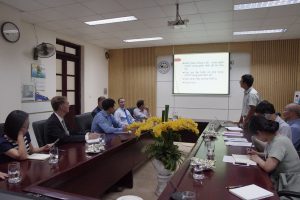 Dr. Nguyen Duc Thanh, Vice director of the RIFI, presented report on result of the training on DART-TOF operation methodology in the US
Latest news
Oldest news